Year 1
Our Remote Learning website is best viewed through a computer or laptop or via a tablet in landscape mode
Year 1
Please review this weeks remote learning work and learning offer for Year 1 children.
Weekly additional non negotiable activities
BBC Supermovers

Description: A number of activities and videos aimed at primary aged children, linking physical activity challenges with other subject area

Key stages: key stage 1 and key stage 2

Number formation practice: Practice your number formation using the trick in these videos. There is a left hand video and right hand video depending on which hand you write with.
Remote Learning Y1: w/c Monday 19th July 2021
Our Remote Learning website is best viewed through a computer or laptop or via a tablet in landscape mode.
Here is this week's challenge table. Your task is to choose 2 activities from each section/colour (Physical, Writing, Maths, Creative and Phonics) each day.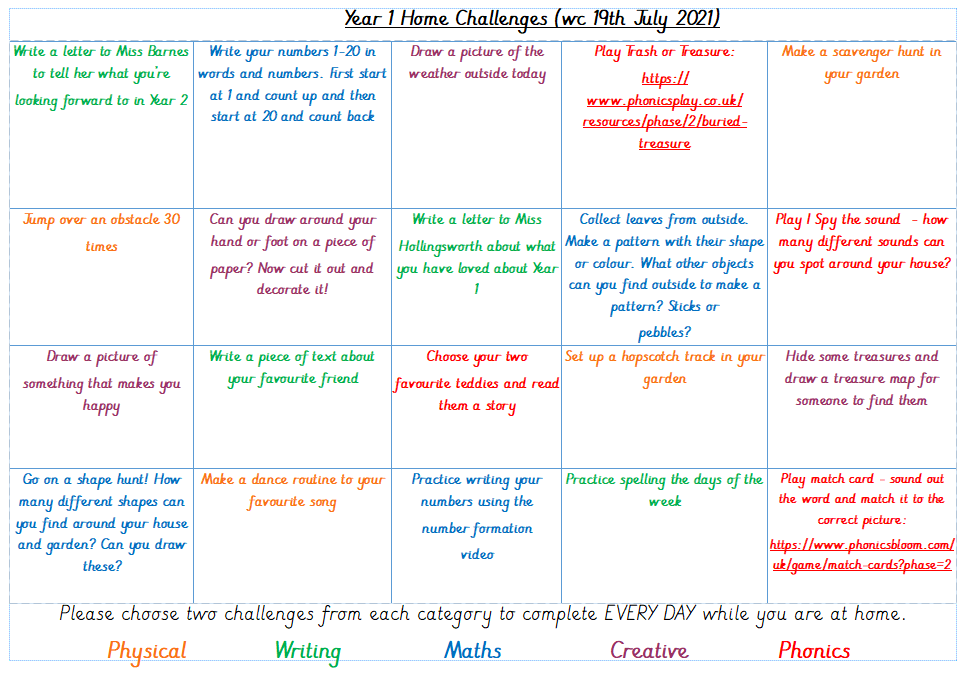 This link also contains lots of other ideas that you could do at home. Make sure you upload to Dojo for your teachers to see the AMAZING things you are doing.
Tuesday 13th July 2021

Information / Instructions

Additional Activities

Morning Activities

8.50-9.00

Maths

Practice your doubles with hit the button. How many can you score in one minute? Can you try again to beat your score?

PE

9.00-9.30

Join in with PE with Joe to get us warmed up for a day of home learning!

Maths

9.30-10.00

Objective: To recap halves of shapes.

Lesson: Today we are going to continue learning about fractions. Work through this PowerPoint to see what you can remember about halving.

Task: Can you identify which shapes have been cut in half or are not in half? Use this template.

English

10.15-10.45

Objective: To write a retell of Camille and the Sunflowers.

Lesson: Join in with this lesson as we write a retell of Camille and the Sunflowers.

Task: To write your own retell of Camille and the Sunflowers. Use this success criteria to help you:

Capital letters, finger spaces and full stops
And/because
Adjectives
Capital letters for names of people and places
Does it make sense?

This video explains how to use sentence strips to break a writing task down into small steps for your child. This can be adapted to any level and is a really good way of building confidence to write in full sentences.

Unjumble the sentences: https://wordwall.net/resource/5153101/english/asriyya-school

http://www.ictgames.com/littleBirdSpelling/

http://www.crickweb.co.uk/ks1literacy.html#cvcmaker

Phonics

10.45-11.30

Please check your child's phonics group and watch the videos specific to their group. You will need pencil and a paper for all phonics lessons, please join in with the parts that the videos ask you to. You can pause these at any time. There is now an additional video for your child to watch, this is the story that matches their phonics group. Please follow along and join in with the activities. The whole book would normally last the full week in school, so it is a good idea to repeat this video everyday so your child builds confidence with the book.

Group 1 – ure

Speed Sound: https://www.youtube.com/watch?v=Dyp_2ZWkXwk

Green story: https://vimeo.com/517127170

Group 2 – ar

Speed Sound: https://vimeo.com/466563710

Read and Write: https://vimeo.com/467649675

Purple Story: https://vimeo.com/511129155

Group 3 – ar

Speed Sound: https://vimeo.com/466563710

Read and Write:

Pink Story: https://vimeo.com/517101467

Group 4 – u-e

Speed Sound: https://vimeo.com/466240909

Read and Write: https://vimeo.com/466237160

Orange Story: https://vimeo.com/517092897

Group 5 – are

Speed Sound: https://vimeo.com/466550602

Read and Write: https://vimeo.com/466551128

Blue Story: https://vimeo.com/511126350

https://www.phonicsplay.co.uk/resources/phase/3

https://www.phonicsbloom.com/uk/game/list/phonics-games-phase-2

https://www.topmarks.co.uk/english-games/5-7-years/letters-and-sounds

http://www.ictgames.com/mobilePage/literacy.html

Tricky words songs

Phase 2 https://www.youtube.com/watch?v=TvMyssfAUx0

Phase 3 https://youtu.be/R087lYrRpgY

Rapid Review

12.45-1.00

For today's rapid review, you will need a pencil and paper. Join in with this video for your task.

Guided Reading

1.00-1.30

Follow along with this video as we read 'Plants for Dinner'. There is an activity at the end for you to complete independently. Here is the template you need.

The link to the book is here:

https://www.oxfordowl.co.uk/api/interactives/26361.html

You can have a go at reading it yourself after the lesson. Some parents have had issues with Oxford Owl due to high traffic – if you can't access the story, you can watch the video back on mute and the children can read the book that way.

Topic

1.30-2.15

Science

Last week in our science, we learned all about what giving a good presentation looks like and you practised delivering a presentation with your friends.

Today, your task is to practise your presentation again using this PowerPoint as your slides to discuss. It is your chance to show me everything that you have learned about plants this term. Your PowerPoint only needs to be around 1 minute long - good luck!

Times Tables Rock Stars / Readiwriter

2.30-3.00

You have been sent your child's login for Times Tables Rock Stars and Readiwriter via a message on Class Dojo.

https://play.ttrockstars.com/auth/school/student/73591

https://login.readiwriter.com/.

The times tables are set to the correct level we use in Year 1. Please spend some time during this half an hour playing on the game to practice.

For your spellings, please learn the tricky words on the list that have been assigned to you. Use the games to practice and test yourself.

Story time

3.00-3.30

Listen to Miss Boardman reading When a Dragon Comes to Stay

Then, choose a book at home and read this for 10 minutes.

Watch this video that Miss Dallimore has put together to show you some great reading techniques to support your child at home: https://vimeo.com/479981765
Wednesday 14th July

Information / Instructions

Additional Activities

Morning Activities

8.50-9.00

It's Wellness Wednesday!

A good way we can improve our wellbeing is to set goals that we want to achieve. Reflect on a goal that you would like to achieve when you are in Year 2 - it might be to learn a new skill or hobby, or to improve and get better at something. Why would you like to learn it? How could you get better at it? You do not need to write anything down for this activity, you can talk about it and upload it to Dojo.

PE

9.00-9.30

Join in with this activity to practice your balance:

https://www.youtube.com/watch?v=zMHOgzFTPSg

Maths

9.30-10.00

Objective: To explore halving shapes and amounts

Lesson: Yesterday we explained halving. What does it mean to half? How many parts/groups do I split in to? What must the groups/parts be?

Task: Complete this worksheet to show what you have learned about halves of amounts. Use concrete resources to help you (counters, pasta etc.) if needed.

https://www.topmarks.co.uk/money/toy-shop-money

https://www.topmarks.co.uk/money/coins-game

English

10.15-10.45

Objective: To edit and improve our retells.

Lesson: Have some reflection time to think about why we edit our work. What types of things in our work might we edit?

Task: Then, edit these sentences to correct the capital letters and full stops.

Challenge: Can you improve the vocabulary in the sentences?

This video explains how to use sentence strips to break a writing task down into small steps for your child. This can be adapted to any level and is a really good way of building confidence to write in full sentences.

Unjumble the sentences: https://wordwall.net/resource/5153101/english/asriyya-school

http://www.ictgames.com/littleBirdSpelling/

http://www.crickweb.co.uk/ks1literacy.html#cvcmaker

http://www.ictgames.com/machine.html

Phonics

10.45-11.30

Please check your child's phonics group and watch the videos specific to their group. You will need pencil and a paper for all phonics lessons, please join in with the parts that the videos ask you to. You can pause these at any time. There is now an additional video for your child to watch, this is the story that matches their phonics group. Please follow along and join in with the activities. The whole book would normally last the full week in school, so it is a good idea to repeat this video everyday so your child builds confidence with the book.

Group 1 – sh

Speed Sound: https://vimeo.com/466483946

Read and Write: https://vimeo.com/466485901

Green Story: https://vimeo.com/517127170

Group 2 – or

Speed Sound:

Read and Write: https://vimeo.com/468436047

Purple Story: https://vimeo.com/511129155

Group 3 – or

Speed Sound:

Read and Write: https://vimeo.com/468436047

Pink Story: https://vimeo.com/517101467

Group 4 – aw

Your child has now completed Set 3. This would normally take twice as long in school as we spend two days on each sound. Therefore, in order to revise the sounds, we will be starting again at Set 2 to recap all special friends.

Speed Sound: https://vimeo.com/466509509

Read and Write: https://vimeo.com/466509655

Orange Story: https://vimeo.com/517092897

Group 5 – ir

Your child has now completed Set 3. This would normally take twice as long in school as we spend two days on each sound. Therefore, in order to revise the sounds, we will be starting again at Set 2 to recap all special friends.

Speed Sound: https://vimeo.com/466233950

Read and Write: https://vimeo.com/466229918

Blue Story: https://vimeo.com/511126350

https://www.phonicsplay.co.uk/resources/phase/3

https://www.phonicsbloom.com/uk/game/list/phonics-games-phase-2

https://www.topmarks.co.uk/english-games/5-7-years/letters-and-sounds

http://www.ictgames.com/mobilePage/literacy.html

Tricky words songs

Phase 2 https://www.youtube.com/watch?v=TvMyssfAUx0

Phase 3 https://youtu.be/R087lYrRpgY

Rapid Review

12.45-1.15

Join in with this video for today's rapid review. You will need a pen and paper for this activity.

Guided Reading

1.15-1.30

Today's guided reading is a Read my Picture activity. Work through the activities and answer the questions. Remember to speak in full sentences!

Topic

1.30-2.15

PE

Objective: To practise your co-ordination and balance with lava zone.

Lesson: Today we are going to practise our co-ordination, balance and agility. Join in with this video:

Task: Create your own lava zone - can you get to safety using your co-ordination and balance?

Times Tables Rock Stars / Readiwriter

2.30-3.00

You have been sent your child's login for Times Tables Rock Stars and Readiwriter via a message on Class Dojo.

https://play.ttrockstars.com/auth/school/student/73591

https://login.readiwriter.com/.

The times tables are set to the correct level we use in Year 1. Please spend some time during this half an hour playing on the game to practice.

For your spellings, please learn the tricky words on the list that have been assigned to you. Use the games to practice and test yourself.

Story time

3.00-3.30

Wellness Wednesday story time!

Have you filled a bucket today?

Then, choose a book at home and read this for 10 minutes.

Watch this video that Miss Dallimore has put together to show you some great reading techniques to support your child at home: https://vimeo.com/479981765
Thursday

15th July

Information / Instructions
Additional Information

Morning Activities

8.50-9.00

Today's morning activity is to think about 3 the things you are most excited about for Year 2. You may also have things that you are nervous about, these are okay, too! Use this template to help you.

PE

9.00-9.30

Story time Cosmic Yoga!

Act out the story of The Hungry Caterpillar by following along with Cosmic Yoga! https://www.youtube.com/watch?v=xhWDiQRrC1Y

Maths

9.30-10.00

Objective: To explore finding quarters of shapes and amounts.

Lesson: Join in with this PowerPoint all about finding quarters of shapes and amounts.

Task: Show everything you have learned today by answering these questions.

English

10.15 - 11.00

Objective: To complete your final piece for your retell of Camille and the Sunflower

Lesson: Combing Tuesday's write it lesson and Wednesday's edit it lesson, today we are going to do our final piece. Watch Tuesday's lesson video to remind yourself of our write.

Task: Using Tuesday's writing, write another retell that this time is edited with capital letters, finger spaces, full stops and improved vocabulary. Make sure your retell makes sense - does it explain what happens in the beginning, middle and end of our story? Remember, this is our final piece so should be our best work!

Phonics

11.00-11.30

Join in with phonics bloom to practise our phonics sounds: https://www.phonicsbloom.com/

Rapid review

12.45-1.15

Join in with this video for today's rapid review. You will need a pen and paper.

Guided reading

1.15-1.30

Today's guided reading is a

Read my Picture

activity. Work through the activities and answer the questions. Remember to speak in

full sentences

!

Build a reading den

1.30-2.15

This afternoon's activity is to build a reading den. Then, climb into your den and settle down with a book of your choice. You may choose to read a book yourself or ask an adult if they can read a book to you. I can't wait to see your dens!

Times Tables Rock Stars / Readiwriter

2.30-3.00

You have been sent your child's login for Times Tables Rock Stars and Readiwriter via a message on Class Dojo.

https://play.ttrockstars.com/auth/school/student/73591

https://login.readiwriter.com/.

The times tables are set to the correct level we use in Year 1. Please spend some time during this half an hour playing on the game to practice.

For your spellings, please learn the tricky words on the list that have been assigned to you. Use the games to practice and test yourself.

Story time

3.00-3.30

Join in with Miss Boardman to read Monkey Puzzle
Friday
Information/Instructions
Additional information

Morning activities

8.50 - 9.00

Welcome to our remote learning Beach Day! Before registration at 9am, get yourself dressed into your favourite beach clothes ready for a day of fun!

Registration

9.00 - 9.30

Use the link on Dojo to access this morning's registration.

Beach Day Activity 1

9.30 - 10.00

Your first activity of the day is to create your own hand fish. You can do this using paints, coloured pencils/pens, tissue paper or tin foil, and any other things you may have in your house. If you do not want to do your hand print in paint, then you can draw around your hand instead and then decorate it. Here are some ideas:

Beach Day Activity 2

10.15 - 10.45

Your next activity is to make ice lollies which can be enjoyed later today. You do not need ice lolly moulds for this activity, but you can use them if you have them. Alternatively you can use plastic cups with cocktail sticks/lollipop sticks.

Instructions to make ice lollies can be found here. There are also some alternative ideas for equipment on the second page. Make sure you remember to put them in the freezer so they're ready for this afternoon!

Beach Day Activity 3

10.45 - 11.30

Our next activity is to make our own kites and then fly them. Choose one of the videos to follow along with to make your own kite. Then, go into the garden and fly your kite. It would be wonderful if you could film a video/take pictures for Dojo. Remember, sun cream and sun hat if the sun is shining!

NB. You do not need lots of resources for this activity - paper and pens/pencils is sufficient.

Beach Day Activity 4

12.45 - 13.00

Join in with this link to join the Cbeebies beach party game.

Beach Time Activity 5

13.00 - 13.30

Your next task is to create your own rockpool. For this activity you will need either a washing up bowl/food bowl or container. Firstly, go around your garden and see what you can find - leaves, stones, rocks etc. Then, use these to build your very own rockpool. You may even want to make some animals to put into your rockpool and may even want to give your rockpool some water for the animals. Here are some ideas.

Beach Time Activity 6

13.30 - 14.00

It's picnic time! Take a towel/blanket and your favourite teddy bear into the garden. Set up a teddy bear's picnic and enjoy your ice lolly that you made earlier today - you may even choose to have some other snacks, too!

Golden Time

14.15 - 14.45

It's Golden Time!

What a super week of home learning - well done to you all! For today's golden time, you may choose to do something that you really enjoy to reward yourself for your fabulous work. You might make an obstacle course, do some colouring, make up a dance, or something else that you enjoy!

Times Tables Rock Stars/Readiwriter

14.45 - 15.00

You have been sent your child's login for Times Tables Rock Stars and Readiwriter via a message on Class Dojo.

https://play.ttrockstars.com/auth/school/student/73591

https://login.readiwriter.com/.

The times tables are set to the correct level we use in Year 1. Please spend some time during this half an hour playing on the game to practice.

For your spellings, please learn the tricky words on the list that have been assigned to you. Use the games to practice and test yourself.

Story time

15.00 - 15.30